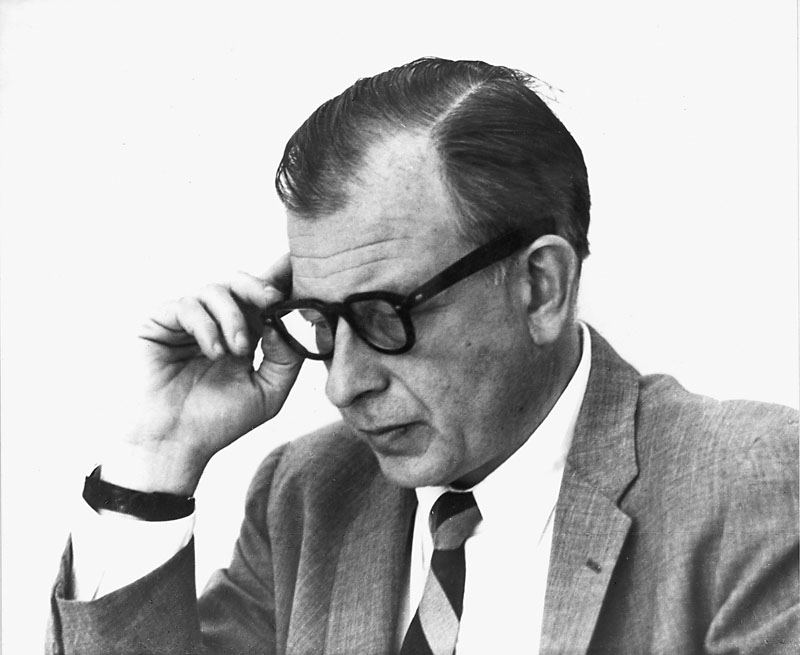 Eero Saarinen
20.08.1910, Kirkkonummi - 01.09.1961, Ann Arbor
Architect 1934, Yale University, USA
Eero Saarinen moved to the United States with his family at the age of 13. After graduating, he traveled in Europe for a couple of years. Citizenship of the United States was granted to him in 1940.
From 1938 to 1950 Eero Saarinen worked in collaboration with his father Eliel Saarinen. Their office was at the Cranbrook Academy of Arts, whose buildings Eliel Saarinen had designed. After his father's death in 1950 Eero established an office of his own.
Saarinen was a frequent participant in architectural competitions. In 1939 he won the competition for the Arts Gallery of the Smithsonian Institution, in 1940–41 together with Charles Eames the furniture competition of the Museum of Modern Art and in 1944 the Arts & Architecture housing competition in California.
Saarinen made his breakthrough with the President Jefferson Monument built in 1959-64 in St. Louis. He had won the competition for its design in 1948. This work reflects in a simplified way the strong sculpturality characteristic of Saarinen's architecture. The best example Saarinen provides of the sculptural possibilities of reinforced concrete is probably the TWA Terminal at Kennedy Airport in New York from 1962.
One of Saarinen's main works is the General Motors Technical Centre in Detroit built in 1956. His other works include the Auditorium of the Massachusetts Institute of Technology, the Dulles Airport in Virginia, the Embassy of the United States in London and the Milwaukee War Memorial Centre. Just before his death he made sketches for the Columbia Broadcasting System skyscraper in New York, his last building.
Eero Saarinen is also known for his furniture desings, in which he used plastic. His pieces of furniture include the womb chair and sets of chairs designed for Knoll.
The museum has Eero Saarinen's drawings from the time the newly graduated arhitect was employed with the office of Jarl Eklund in Helsinki. He designed there in 1934 the renovation of the Swedish Theatre, completed in 1936, and in 1936 an entry for the competition of the Finnish Pavilion for the Paris World Fair. Eero Saarinen's life's work is kept in the United States.