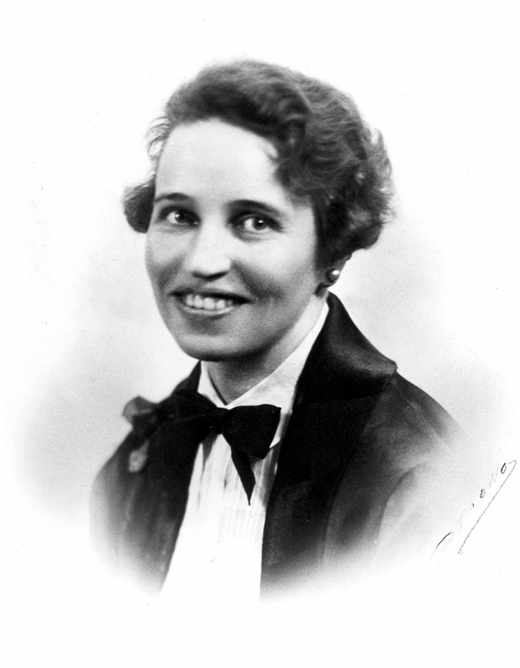 Elsi Borg
03.10.1893, Nastola - 30.12.1958, Helsinki
Architect 1919, Helsinki University of Technology
After graduation, Elsi Naemi Borg studied industrial design at the Central School of Applied Arts. She made measuring drawings of Karelian buildings as well as the castle parks and gardens of Southern Finland and Skåne, Sweden. Besides the Nordic Countries, she traveled in France, Spain and Morocco.
In the 1920s Borg was employed with architectural and landscaping offices and established an office of her own in 1927. From 1929 to 1956 she worked at the construction office of the Ministry of Defense, her work there including a military hospital for Viipuri (now part of Russia) in collaboration with Olavi Sortta.
Elsi Borg took part in several competitions of architecture and industrial design. Her first monumental building was Taulumäki Church in Jyväskylä, the commission got by winning the respective competition. Among the other entrants were Alvar Aalto and Erik Bryggman. Another remarkable work by Borg is the Lastenlinna children's hospital in Helsinki, designed in collaboration with Otto Flodin and Olavi Sortta. The commission was transferred to her after the death of her brother Kaarlo Borg.
Elsi Borg was also interested in gardening and she made graphic designs and book illustrations.
The Elsi Borg collection is not large, but it reveals the wide range of her work, including churches and cemeteries, graphics and furniture, factories and banks built around Finland.
Elsi Borg was a talented drawer, who assisted Oiva Kallio in his 1927 plan for central Helsinki. With a few determined strokes, she produced vivid images of the bustle of a metropolis. She gave a modern impression also to her church designs.