Online Zoom Lecture / Architecture Speaks: Anna Chavepayre
Paikka: Muualla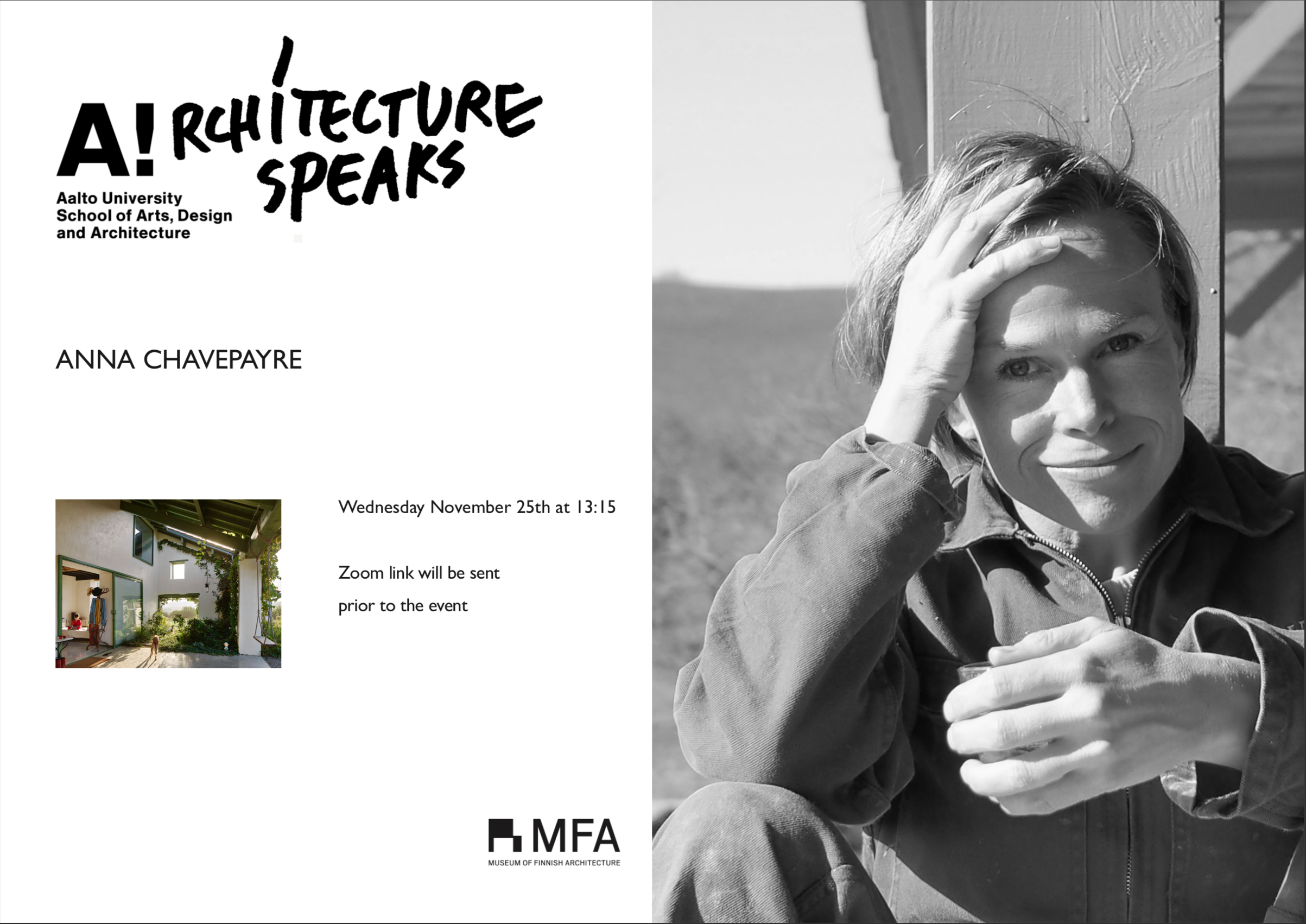 Anna Chavepayre | Collectif Encore | France
Wednesday  25th of November 2020 1.15 PM–3.15 PM  (UTC+2)
The event will take place in Zoom. We want to make this lecture series safer to all participants. – unlike previously announced all lectures are organised as closed Zoom Webinars and pre-registration is required. Free of charge. Registration for the lecture ends on Wednesday 25th November at 12 pm. Online participants will be sent an invitation link to the event.
Register here: https://q.surveypal.com/Registration-Architecture-Speaks-Anna-Chavepayre
/
The international lecture series on contemporary architecture continues online. Six architects from various backgrounds are invited to share their thoughts and ideas on current trends in architecture.
Anna Chavepayre is a french-swedish architect, co-founder of Collectif Encore, an architecture and landscape agency that claims the need for projects anchored in real life.
Anna's architecture calls for space as a prior condition for freedom of usage, diversity, evolution and innovation. In an image-ruled era where only what is simplified and binary becomes visible, she values complexity, interactions, social connections, transformations and diversity that they imply (including earthworms) and the value of everything that pre-exists the project itself.
An ardents defender of reinvented rurality, Anna received the 2018 Kasper Salin Prize, the most prestigious Swedish architectural distinction, awarded by the Swedish Order of Architects for the Hamra project, also awarded at the 2018 Swedish design Awards and the 2019 Architectural Review House Awards.
Her thinking in favour of a resilient architecture and city has earned her regular participations in conferences on innovation and prospective thinking on housing (Versailles School of Architecture, Arc en reve, 308 – Ordre des Architectures Francais, Stockholm Shool of Architecture, Stockholm Resielience Center, Stockholms Arkitekter, Geneva School of Art and Design).
Anna also has a solid teaching background, as visiting professor at the Peter Behrens School of Architecture (Düsseldorf 2011), associate professor at the Royal Institute of Art (Sockholm 2004–2005) and at the KTH School of Architecture (Stockholm 2002–2004). She has also collaborated with the agencies of Jean Nouvel (Paris) and Rem Koolhaas (OMA – Netherlands)
"In Anne Chavepayre's architecture there exists a beautiful dialogue between interior and exterior. In her own home in France, she has successfully maintained the atmosphere of a building in an unfinished and ruinous state", states Jenni Reuter, curator of the lecture series.
https://www.collectifencore.com
Architecture Speaks
This international lecture series is curated by Professor Jenni Reuter and organised jointly by Aalto University Department of Architecture and the Museum of Finnish Architecture. The new season of lectures examines the relationship between the interior and exterior in architecture as well as hapticity and time in the built environment. Six architects from various backgrounds have been invited to share their thoughts and ideas on current trends in architecture.
Pre-Registration
The event will take place in Zoom. We want to make this lecture series safer to all participants. – unlike previously announced all lectures are organised as closed Zoom Webinars and pre-registration is required. Free of charge.

Registration for the lecture ends on Wednesday 25th November at 12 pm. Online participants will be sent an invitation link to the event. Register here: https://q.surveypal.com/Registration-Architecture-Speaks-Anna-Chavepayre
For more information, please contact
Jemina Lindholm 
Programme Manager, Museum of Finnish Architecture
jemina.lindholm@mfa.fi 
+3584577310476