Online Zoom Lecture / Architecture Speaks: Anna & Eugeni Bach
Paikka: Muualla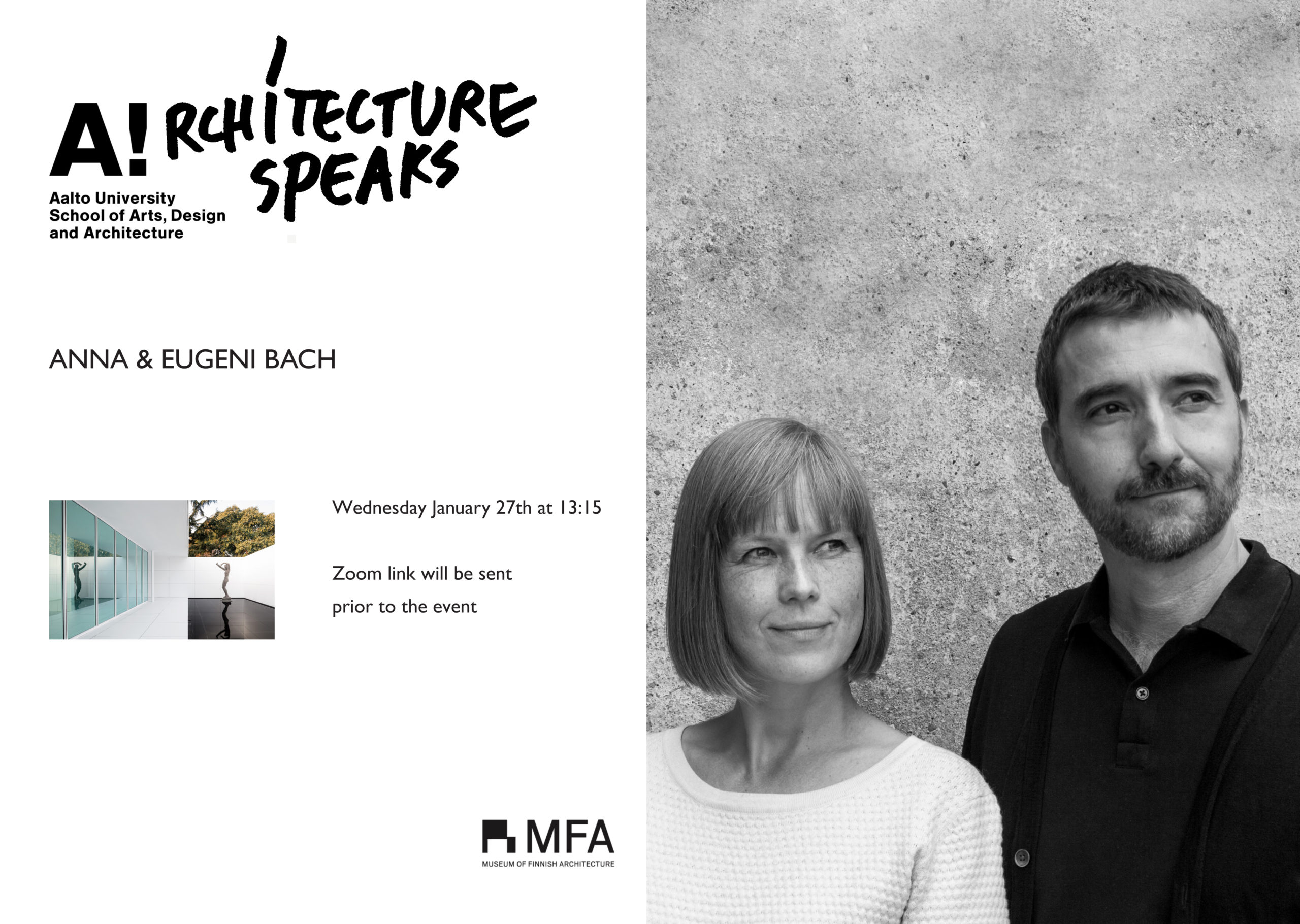 Anna & Eugeni Bach | Anna & Eugeni Bach | Barcelona, Spain
Wednesday  27th of January 2021 1.15 PM–3.15 PM  (UTC+2)
The event will take place in Zoom. We want to make this lecture series safer to all participants. – unlike previously announced all lectures are organised as closed Zoom Webinars and pre-registration is required. Free of charge. Registration for the lecture ends on Wednesday 27th January 2021 at 12 pm. Online participants will be sent an invitation link to the event. Register here: https://q.surveypal.com/Registration-Architecture-Speaks-Anna-Eugeni-Bach

The international lecture series on contemporary architecture continues online. Six architects from various backgrounds are invited to share their thoughts and ideas on current trends in architecture.
Anna & Eugeni Bach is a Finnish-Spanish architecture studio based in Barcelona working within a broad concept of architecture. Their interests spread across four activities: Professional, through public and private projects departing from any specialization and ranging from art installations, interior design, housing, public buildings and public space design; Teaching, as associate professors at ETSAB UPC, ETSALS URL and EINA UAB, and via lectures and workshops in different European universities; Research, being part of PhD research groups at ETSAB university and via projects and installations that deal with the perception of space; Culture, being active in the boards of different associations that promote the values of architecture for society, as well as in curating exhibitions and lecture series.
Their work has been exhibited among others, in venues like the Lisbon Architecture Triennale 2019–2020, the Spanish Pavilion at the Venice Biennale 2016 (Golden Lion), or in their exhibition "Elective Affinities" in different Spanish locations in 2015. Some highlights from among their recent awards and recognitions include the FAD Award 2019 and Opinion FAD Award in Ephemeral Interventions, Finalist and Selected at the Spanish Architecture Biennial in 2018 and 2016, the nomination for the EU Mies van der Rohe Award and the nomination for the Iakov Chernikhov International Prize for Young Architects in 2015 and the International FAD Award in 2014.
"Anna and Eugeni Bach is a Finnish-Spanish couple with a wide scope of projects. Their architecture has an easiness that actually reflects the hard work behind it", states Jenni Reuter, curator of the lecture series.
Architecture  Speaks 
This international lecture series is curated by Professor Jenni Reuter and organised by Aalto University Department of Architecture and the Museum of Finnish Architecture. The new season looks at the relation between the interior and exterior in architecture as well as the hapticity and time in our built environment. Six architects from various backgrounds are invited to share their thoughts and ideas on current trends in architecture.
Pre-registration
The event will take place in Zoom. We want to make this lecture series safer to all participants. – unlike previously announced all lectures are organised as closed Zoom Webinars and pre-registration is required. Free of charge. Registration for the lecture ends on Wednesday 27th January 2021 at 12 pm. Online participants will be sent an invitation link to the event. Register here: https://q.surveypal.com/Registration-Architecture-Speaks-Anna-Eugeni-Bach
For more information, please contact:
Jemina Lindholm 
Programme Manager, Museum of Finnish Architecture
jemina.lindholm@mfa.fi
+3584577310476