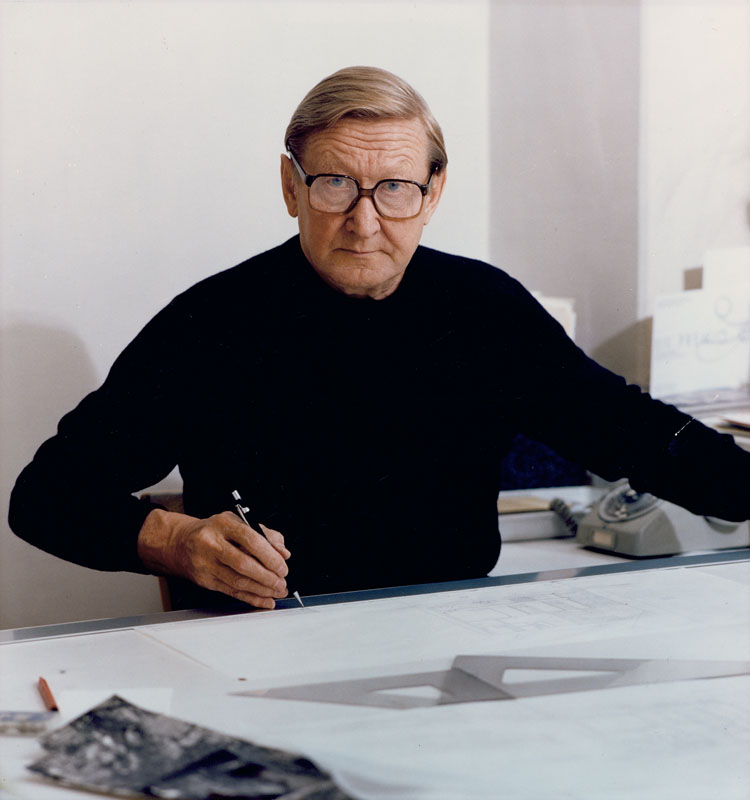 Aarno Ruusuvuori
14.01.1925, Kuopio - 23.02.1992, Helsinki
Arhitect 1951, Helsinki University of Technology
Aarno Emil Ruusuvuori made several study tours to the Nordic Countries as well as Central and Southern Europe, but he also traveled to the United States and India.
Ruusuvuori worked in several architectural offices from 1947 to 1952, when he established an office of his own. He was editor of the Finnish Architectural Review in 1956–57 and taught at Helsinki University of Technology since 1960, as Professor of Architecture in 1963–66. He was director of the Museum of Finnish Architecture in 1975–78 and 1983–88 and State Art Professor in 1978–83.
Aarno Ruusuvuori was a strict modernist, who became known for his reduced concrete buildings. He made an international breakthrough with Hyvinkää Church and Parish Centre in 1961. His Huutoniemi Church and Parish Centre were built in Vaasa in 1964 and Tapiola Church and Parish Centre in Espoo the following year.
He designed such famous industrial buildings as the Weilin & Göös printing house in Espoo and the now demolished Marimekko printing house in Helsinki. The Weilin & Göös building, constructed in two stages in 1964 and 1967, now mainly serves as a museum.
Ruusuvuori's oeuvre also includes offices and public buildings, for instance the renovation and partial restoration of the Helsinki City Hall block, a lengthy work started in 1970 and finished in 1988.
Besides concrete, Ruusuvuori also used wood as a building material. His Marisauna, made of prefabricated units in 1968, represents experimental wood building.
The Aarno Ruusuvuori drawings collection was donated to the museum in 2006 by Anna Ruusuvuori.