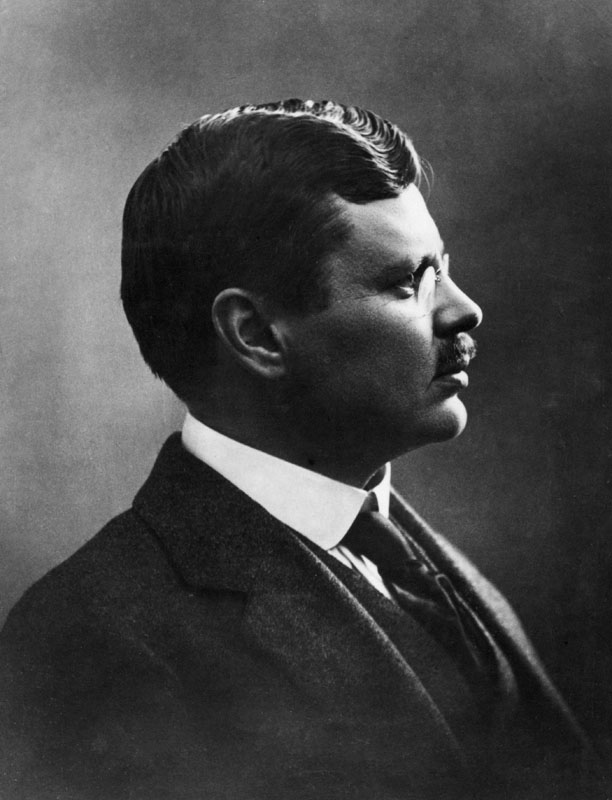 Armas Lindgren
28.11.1874, Hämeenlinna - 03.10.1929, Kööpenhamina
Architect 1897, Polytechnic Institute, Helsinki
Armas Eliel Lindgren completed his education on a study tour to the Nordic Countries, Scotland, England and the Netherlands. In 1898–99 he studied the history of art and culture in Sweden, Denmark, Germany, France and England. After this journey he taught the history of art at the Polytechnic Institute.
In 1902–12 Lindgren was the Arts Director of the Central School of Applied Arts. He wrote a text book on styles of building and decoration, published in 1914. In 1919 he was appointed Professor of Architecture at Helsinki University of Technology.
Armas Lindgren's work with old buildings continued through his whole life. He made numerous aquarelles on churches, mainly the wooden churches of the 17th and 18th century, and was one of the first architects who understood the architectural value of Finnish wooden churhes.
While still a student, Lindgren had worked in the offices of Josef Stenbäck and Gustaf Nyström. A year before graduation he started collaboration with Eliel Saarinen and Herman Gesellius. During the nearly ten years of partnership Gesellius, Lindgren and Saarinen became the most esteemed architects of our country.
At the turn of the 20th century the office Gesellius, Lindgren, Saarinen designed the Finnish Pavilion for the Paris World Fair of 1900, the architects' joint studio and home Hvitträsk in Kirkkonummi and the Suur-Merijoki manor near Viipuri (now part of Russia). Their other well-known designs include the Pohjola insurance company building and several art nouveau apartment blocks in Helsinki. Armas Lindgren's main work in the joint office was the completion of the design for the Finnish National Museum.
In 1905 the office fell apart and Lindgren set up a private office. In the 1910s he worked together with Wivi Lönn, their joint designs including the new students' union building (Uusi ylioppilastalo) for Helsinki and the Estonia Theatre for Tallinn, Estonia.
Lindgren's solo work includes the Kaleva insurance company building in Helsinki and several dwelling houses. His dwellings include the Ribbinghof row houses in Kulosaari and the Kone ja Silta construction company's housing (together with Bertel Liljequist) in Vallila, Helsinki. The Kulosaari houses were the first row houses in Finland, and the Vallila housing represents the type of block with a large courtyard that is rare in Finland. The designs made by the office Lindgren–Liljequist in 1914–26 include Hanko Town Hall and Säynätsalo Church.
The Armas Lindgren drawings collection is one of the largest in the museum. Its special interest is the abundance of sketches.