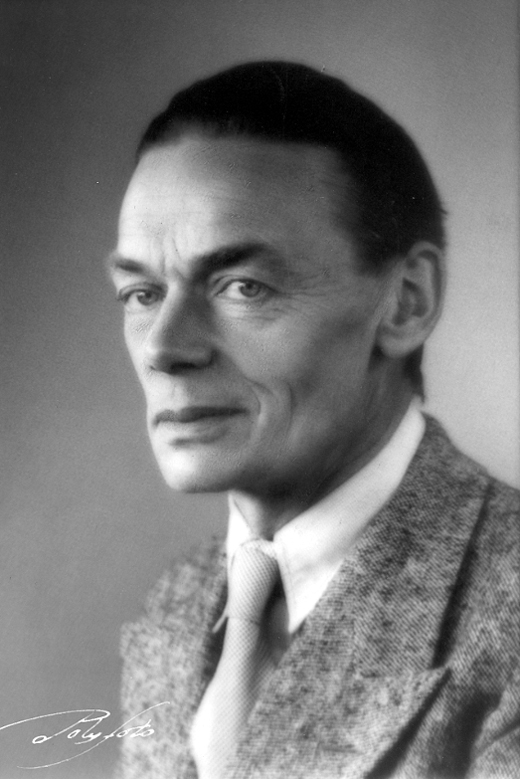 Hilding Ekelund
18.11.1893, Kangasniemi - 30.01.1984, Helsinki
Architect 1916, Helsinki University of Technology
Georg Hilding Ekelund first worked in different architectural offices, his jobs including assistance of Eliel Saarinen. Since 1920 Ekelund worked in Stockholm, for a year with Hakon Ahlberg's office and then with Ivar Tengbom. Since 1926 he had an office of his own in Helsinki. In 1941–49 he was Helsinki City Architect.
Ekelund made several study tours to Europe, and he had close contacts with the Scandinavian Countries. In 1921–22 he made an Italian tour with Eva Kuhlefelt-Ekelund. The travel sketches produced on that trip were published under the title of Italia la bella in The Finnish Architectural Review in 1923. Ekelund shared many other Finnish architects' interest in anonymous Italian architecture, the architettura minore.
In 1927–41 Ekelund taught at Helsinki University of Technology and was Professor of Architecture in 1950–58. He was a regular contributor of The Finnish Architectural Review in 1929–30 and Editor in 1931–34.
Ekelund had his roots in the Classicism of the 1920s. He was in on the breakthrough of Functionalism in Finland. Looking at his whole oeuvre, it looks that, he sought for eternal, free architecture beyond trends, with Mediterranean tradition as his ideal.
Ekelund's main works are in Helsinki: the Kunsthalle (in collaboration with Jarl Eklund), Töölö Church, the Luther Church, the Velodrome, the Rowing Race Stadium and the Olympic Village in Käpylä (in collaboration with Martti Välikangas). He also designed the Finnish Embassy in Moscow, the Soviet Union.
Ekelund was a frequent participant in architectural competitions and was usually placed well. He wrote numerous essays and articles on architecture.
Hilding Ekelund and his wife Eva Kuhlefelt-Ekelund donated their drawings to the museum in stages. The collection includes drawings for the Finnish Embassy in Moscow, sports buildings from the Functionalist period and housing, a special concern of Ekelund. Included are also lots of competition entries and travel sketches.