Architecture Speaks: Andrew Waugh – Waugh Thistleton Architects 
Location: Muualla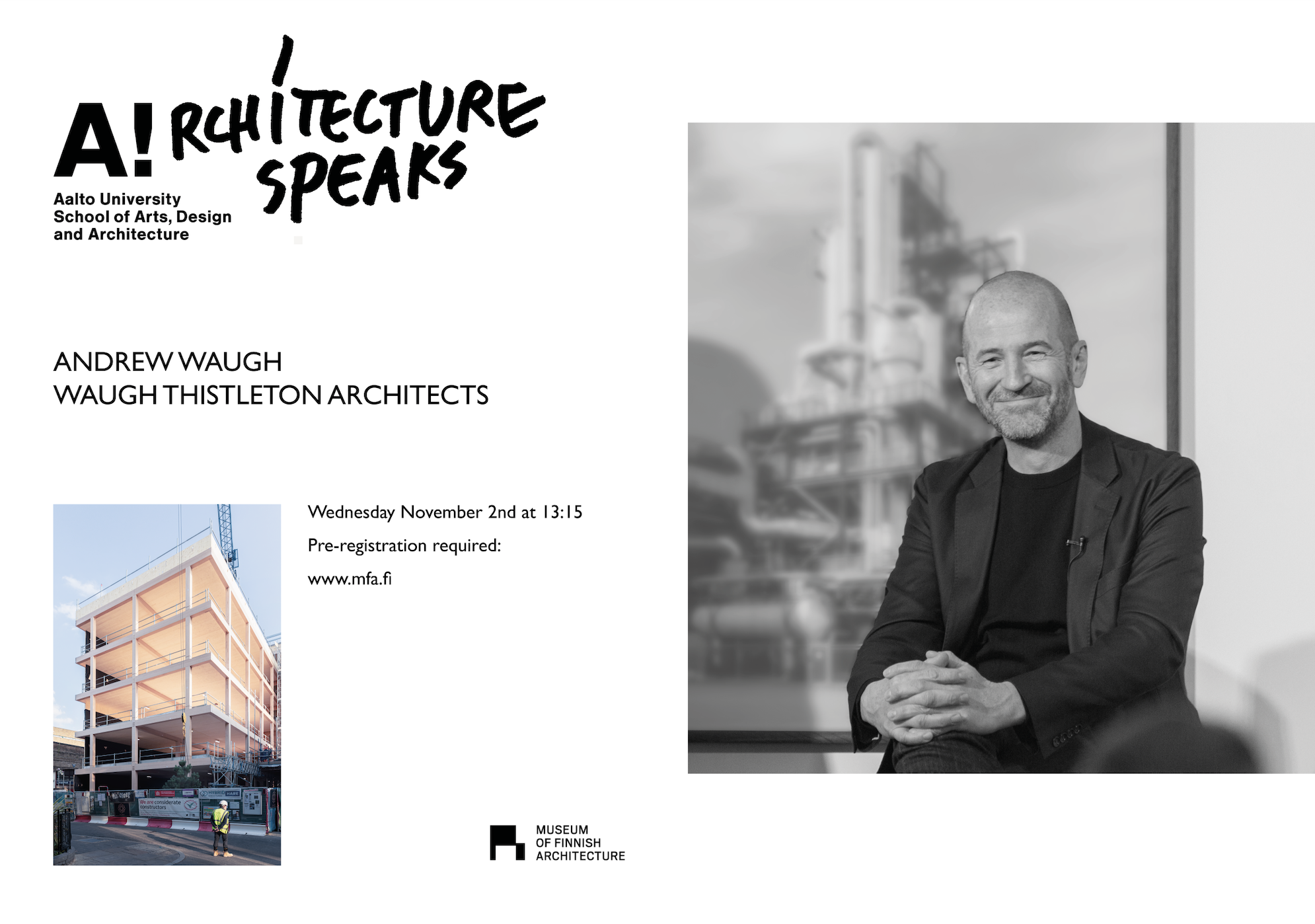 Online Lecture
Wednesday 2 November 2022
1.15–2.30 pm (UTC+2)  
Zoom Webinar (pre-registration required, link below)
The international lecture series on contemporary architecture continues online! Six professional in the field of architecture from various backgrounds are invited to share their thoughts and ideas on current trends in architecture.
"For this season of guest lectures, I have chosen creators whose thinking and works evoke feelings of pleasure, passion and a hope for the future." – Jenni Reuter, curator of Architecture Speaks!
Andrew Waugh – Waugh Thistleton Architects
"Waugh Thistleton Architects have used solid wood on a large scale. Their works are an example of how buildings can be dismantled, reassembled and recycled."
– Jenni Reuter, curator of Architecture Speaks!
Andrew Waugh is a Founding Director of Waugh Thistleton Architects, a practice dedicated to delivering beautiful buildings and places that acknowledge their effect on the environment. He is a world-renowned spokesperson for low impact architecture and innovative construction, and lobbies and lectures internationally, communicating the urgent need for change to mitigate the climate crisis. A pivotal player in the global shift towards renewable, bio-based materials, Andrew's innovative approach to design has been acknowledged by many awards including The RIBA President's Award for Research and a Stirling Prize nomination in 2018. The practice is currently engaged on both research and design projects throughout Europe and North America. For more information: https://waughthistleton.com
Architecture Speaks!
Architecture Speaks! Is a lecture series curated by Associate Professor Jenni Reuter and organized by Aalto University Department of Architecture and the Museum of Finnish Architecture.
Pre-Registration
The online lecture will be held on Zoom Webinar platform. Please pre-register from this link no later on Tuesday 1 November 2022: https://q.surveypal.com/Registration-Architecture-Speaks-Andrew-Waugh
Link and instructions for participation are sent in a separate email after the registration has closed.
Accessibility
The online lecture is free of charge and organized in English. Interpretation, translations or live-captioning are not provided. There will be no recorded version of the lecture available afterwards. Technical instructions are on display at the beginning of the lecture.
For more information
Jemina Lindholm
Manager of Learning and Public Programmes
Museum of Finnish Architecture
jemina.lindholm@mfa.fi
+3584577310476