Finnish Architecture – Biennial Review 2020
large exhibition hall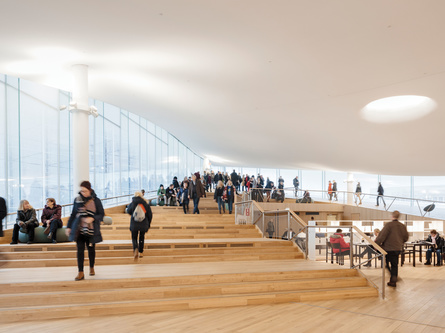 Finland's biennial architectural review presents a selection of recent projects showcasing new trends and high standards of excellence in Finnish architecture. The works span the diverse fields of architecture and vary in size from small structures to whole areas.
A jury of experts is appointed for each review to select the works to be displayed. The review jury this year consists of Martin Braathen PhD., architect, from the National Museum of Norway (Nasjonaalmuseet), Harri Hautajärvi D.Sc. (Tech) architect SAFA, and Kirsi Korhonen architect SAFA.
This year the jury selected fifteen architectural sites. According to the jury, the selections emphasised comprehensive quality-related aspects. At their best, the projects combine high-quality and creative architecture, a measured relationship with the environment, functionality, as well as ecologically sustainable building criteria.

The 2020 projects are:
Lapinmäki daycare centre (AFKS Architects)
Helsinki Central Library Oodi (ALA Architects)
Tuupala school (alt Architects and Architecture Office Karsikas)
Käpylän Posteljooni housing block (Anttinen Oiva Architects)
Gullkronan senior housing (Huttunen-Lipasti Architects)
Amos Rex and Lasipalatsi restoration (JKMM Architects)
Serpentine House renovation (Kati Salonen & Mona Schalin Architects)
Sauna in the Yard (Mattila & Merz)
Lammassaari Nature Trail (Nomaji Landscape Architects and Studio Puisto Architects)
House MK5 (ORTRAUM architects)
Fuzhou Strait Culture and Art Centre (PES-Architects)
Sipoonlahti school extension (Architects Rudanko + Kankkunen and AFKS Architects)
Airut residential block (Sauerbruch Hutton and Optiplan)
Kakola funicular station buildings (Vapaavuori Architects)
Aalto University new campus buildings (Verstas Architects)
The review is organized by the Museum of Finnish Architecture, the Finnish Association of Architects SAFA and the Alvar Aalto Foundation.
MFA Friday Clip series presents videos of the latest biennial review projects. Follow us in YouTube: Arkkitehtuurimuseo MFA