Sami Funke: Beethoven's Horse
studio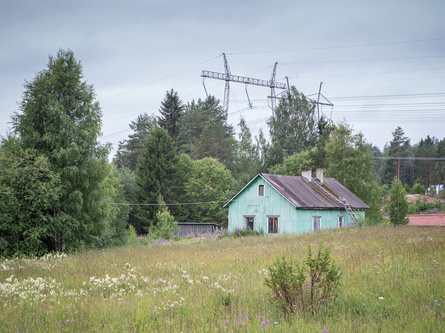 According to an old and probably apocryphal story, composer Ludwig van Beethoven had wanted a horse of his own, even though his patron at that time had made his own horses freely available for the composer's use. To prove his independence, Beethoven bought himself the ultimate status symbol of the time. He admired the magnificent animal, but forgot to care for it or feed it, and so eventually it died.
In the exhibition Sami Funke: Beethoven's Horse, the old story serves as a metaphor for the structural changes that have taken place in Finland. The magnificent old buildings presented in the photo exhibition have become redundant and abandoned. The windows are boarded up with plywood or planks. Some of the buildings have fallen into ruin. Nevertheless, each building has its own, if often forgotten, story – and this is indeed what piqued the photographer's interest. Sami Funke points his camera at subjects that are too familiar to be noticed. Documentation is an important part of the artistic expression of the photos.
"I want my photos to have cultural-historical significance. The Beethoven's Horse photo series tells about the transformation of settlements and industry, consumer culture and the values of our society. I don't want to valuate buildings myself – in my opinion, they're all important."
The Studio exhibition establishes an intriguing relationship with the Museum of Finnish Architecture's own extensive photographic collection. A modern building as represented in a typical black-and-white photo in the museum's collection radiates newness. However, the photos in the museum's collection and those in the exhibition have more in common than one would first assume: they are actually two sides of the same coin. During the 20th century, Finland became rapidly modernized, and consequently part of the built environment has been left to its own devices. The exhibition tells about this structural change. This same issue was previously extensively discussed in the Museum of Finnish Architecture around forty years ago.