The Cultivated Landscape of Alvar Aalto
large exhibition hall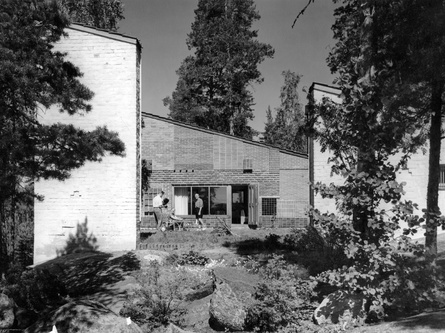 As for the Finnish landscape, I have always been immersed in it. When I began to appreciate the balance and harmony it exudes, I also began to understand how we humans should treat out natural surroundings.

– Alvar Aalto, 1972 –

Our flagship exhibition highlights a lesser known side of Finland's most prominent architect, Alvar Aalto (1898–1976): his ingenious skill at integrating his designs with the landscape and natural scenery. Aalto was a master at fusing his buildings with their natural surroundings, inviting nature to become one with his architecture. He had a special sensibility for the art of landscaping, mastering all kinds of projects from small-scale gardens to large-scale plans.

For Alvar Aalto, nature symbolized renewal – it was the wellspring of human wellbeing. In line with this principle, he made a careful study of Finland's forests and vernacular architecture as well as the hillside vineyards and classical ruins of the Mediterranean. In defending the power of plants, Aalto saw himself as promulgating the fundamental principles of European humanism. In doing so, he was also an early precursor to the rise of contemporary eco-discourse.

The presence of nature in urban environments is a highly topical theme of discourse at the moment. Nature plays an important role maintaining health and wellbeing. Aalto was well ahead of his time in advocating green corridors and biophilic design, of which his architecture offers a fine sample. Aalto's legacy in this field forms a valuable part of Finland's national heritage, and his ideas about landscaping remain relevant as ever today.

The exhibition concept is by Professor (emeritus) Tom Simons, with texts by curator Teija Isohauta. The exhibition is based on recent scholarship and was co-produced by the Museum of Finnish Architecture and the Alvar Aalto Foundation.