Tuomas Uusheimo: Paimio Sanatorium
studio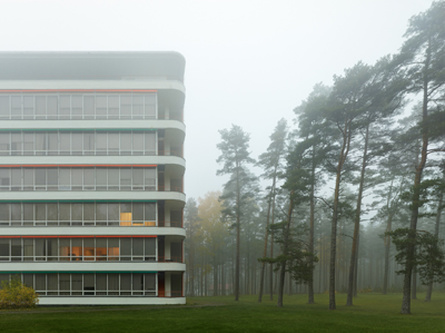 The Studio's inaugural exhibition will feature a selection of internationally awarded photographs of Paimio Sanatorium taken by architecture photographer Tuomas Uusheimo. In his photos, the famous landmark designed by Alvar and Aino Aalto towers majestically above misty pinewoods in pristine solitude.
The Paimio complex was built to serve as a tuberculosis sanatorium in 1933. Its merits were soon recognized, and today it is regarded as a masterpiece of Finnish functionalism, exemplifying the latest medical and psychological findings on what constitutes progressive architecture. Situated on a scenic pine-dotted heath, it is praised as the key work of Alvar Aalto's functionalist period, and one of the most perfect existing samples of "total work of art" of its time.
Tuomas Uusheimo is one of Finland's leading architectural photographers. He won second prize in the professional category of the internationally acclaimed Sony World Photography Awards 2019 with his Paimio series, which was shot in autumn 2018. The chair of the jury Mike Trow described the Paimio series as being perfectly photographed. Uusheimo himself stated that his chief aim was to capture a living sense of the building's long history.
My work as a photographer looks at architecture and the built environment. I always see buildings in relation to their history and environment. The lifespan of a work of architecture often exceeds that of the architect. Buildings remain part of their surroundings even after they are repurposed, the occupants change, or their original function no longer exists. Buildings carry fragments of history with them – I want to photograph those memories, states Uusheimo.
With my Paimio series, I wanted to contribute to raising the profile of this unique architectural monument among the wider public.
–
Studio is a new exhibition and event space on the first floor of the Museum of Finnish Architecture. Admission is free.