Forensic Architecture: Outsourcing risk
studio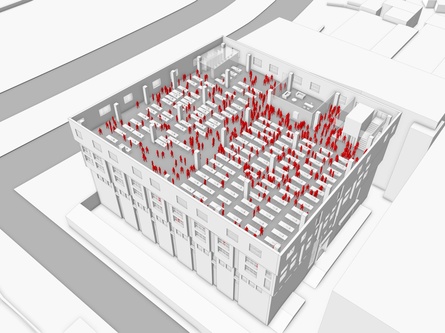 The video contains scenes that may shock sensitive viewers.
The Museum of Finnish Architecture's Studio presents Forensic Architecture's video documentary Outsourcing risk: Ali Enterprises Factory Fire (2018).
A total of 259 people died when the Ali Enterprises textile factory in Karachi, Pakistan, was gutted by fire on 11 September 2012. The video shows how Forensic Architecture carried out an architectural analysis of the fire. According to the research team inadequate fire safety measures at the factory led to the catastrophic death toll. The video documentary reminds us, what kind of outsourced risks, inequality and violence are built into systems of global division of labour and international supply chains.
Forensic Architecture
Forensic Architecture (FA) is a research agency, based at Goldsmiths, University of London, investigating human rights violations including violence committed by states, police forces, militaries, and corporations. FA works in partnership with institutions across civil society and findings from it's investigations have been presented around the world in various forums from courtrooms and parliamentary inquiries to cultural institutions and major media platforms. FA's investigations employ pioneering techniques in spatial and architectural analysis, open-source investigation, digital modelling, and immersive technologies, as well as documentary research, situated interviews, and academic collaboration. 
The exhibition is part of Frame Contemporary Art Finland's Gathering for Rehearsing Hospitalities programme in September in Helsinki, Finland. The programme is co-organised with the Museum of Finnish Architecture and Vantaa Art Museum Artsi and produced in collaboration with additional partners the Finnish Cultural Institute New York and IHME Helsinki.
Talk / Eyal Weizman: Forensic Architecture
How can architectural tools and thinking be used for forensic analysis? How to understand and challenge public space, violence and politics with these tools and thinking? How to investigate police violence, human rights violations, genozide and ecocide as interconnected processes? This online talk on Saturday 11 September 2021, 1 p.m.–3 p.m. opens up the work of professor Eyal Weizman and research agency Forensic Architecture through case studies presentations and conversations. Pre-registration is required.
View more