VAPAA Collective: The Aesthetic of Disruption
studio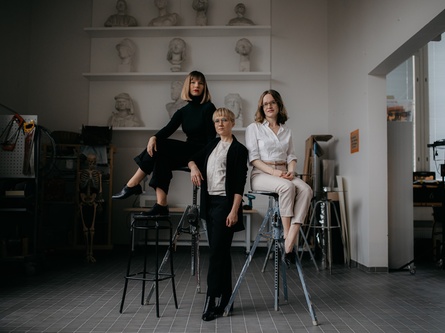 The final version of the invitational exhibition in the Museum of Finnish Architecture's Studio space will not take shape until the last word has been spoken. You can follow the VAPAA Collective exhibition at the Studio exhibition space as well as on the present webpages.
The transformation triggered by climate change requires a complete redefinition of our prevailing society. In order to enable those changes in life that are needed for tackling the climate crisis, we must be able to envision a post-crisis future: a world worth pursuing – albeit one completely transformed. According to various estimates, the built environment produces approximately 40% of all greenhouse gas emissions. It is obvious that current actions are inadequate in averting the crisis. On the other hand, figures show that the architectural profession has a key role to play in turning things around.
The Aesthetic of Disruption is a series of discussions as well as an exhibition that will undergo continuous change. As a totality, it will highlight the essential role of architecture in climate issues and invite to the discussions various voices both inside and outside the architectural profession. The Studio installation will be completed as the discussions progress. The final form of the exhibition will not take shape until the last word has been spoken.
Programme (Only in Finnish)
Thursday 3 Sep, 2020: The climate crisis and architects
Iines Karkulahti, Charlotte Nyholm ja Meri Wiikinkoski / VAPAA Collective
Monday 7 Sep, 2020: Utopia
Olli Metso, Architect SAFA / MUUAN
Aleksi Lohtaja, Researcher, political history
Thursday 10 Sep, 2020: Aesthetic
Mira Kyllönen, Architect SAFA
Maiju Suomi, University teacher / Aalto University
Friday 11 Sep, 2020: Power
Efe Ogbeide, Urban Geographer /FEMMA Planning
Noora Laak, Architect SAFA
/
VAPAA Collective, the curator of the invitational exhibition, is one of the founding signatories of the Architects Declare declaration and a member of its steering group. VAPAA consists of three young Finnish architects, Iines Karkulahti, Charlotte Nyholm and Meri Wiikinkoski, who, in addition to their design work also teach at Aalto University and write professionally on the intersections between architecture, urban planning and climate change. The trio came together due their interest in reflecting on the roles of systemic change and new aesthetics in the era of climate crisis.
The exhibition is supported by Greta ja William Lehtisen säätiö and Arts Promotion Centre Finland. It is a part of Helsinki Design Week's official festival programme. The largest design festival in the Nordics takes place 3–13.9.2020