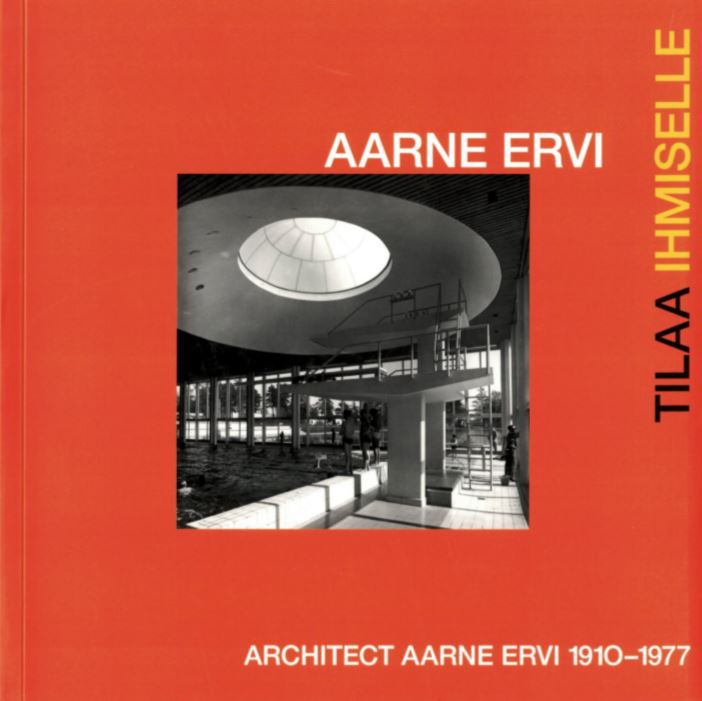 Architect Aarne Ervi
Architect Aarne Ervi (1910–1977) was one of the top names in post-war modern architecture in Finland. In the 1950s, he was one of the most influential architects of his time, alongside with Alvar Aalto and Viljo Revell. The book highlights Ervi's natural and humane attitude toward his fellow man, as well as the essence of his architecture. Ervi's architecture is harmonious, controlled and comfortable. It opens up and leaves room for the human being.
The book contains seven extensive articles which delve into Aarne Ervi's persona and the working methods of his architectural office. Topics treat, for example, designing the power station communities on the Oulujoki waterway and the Porthania building (Helsinki University) which was the first building constructed entirely out of prefabricated concrete elements in Finland. Also discussed are Ervi's years as an employee of Alvar Aalto in the mid-1930s and the interior and furniture design work of Ervi's office during the 1940s and 1950s. In addition, seven brief treatises present important themes of Ervi's work, such as private residences, school buildings and Ervi's role in the standardisation of building parts and products in Finland. Furthermore, the book contains a catalogue of Ervi's oeuvre, covering approximately 500 cases.
Articles: Susanna Aaltonen: Aarne Ervi's office community as seen by the interior designer Lasse Ollinkari; Helena Hirviniemi: The power station communities on the Oulujoki waterway – an important heritage from the post-war rebuilding period; Arne Hästesko: Ervi's apprenticeship with Aalto; Petri Janhunen: Aarne Ervi and Matti Janhunen – friendship and co-operation; Eriika Johansson: Elers – Ervi – Arkka. The life of the architect; Juhana Lahti: Architect Aarne Ervi – naturally modern; Matti Nurmela: Ervi's university buildings in Turku and Helsinki today, after renovation.
Author:

Eriika Johansson, Juhana Lahti, Kristiina Paatero (eds.)

Number of pages:

224

Image ratio:

450 photographs

Published:

2010

ISBN:

978-952-5195-35-4

Language:

suomi/englanti

Publisher:

Museum of Finnish Architecture
30 00 €