Architecture Speaks: Carla Juaçaba
Paikka: Muualla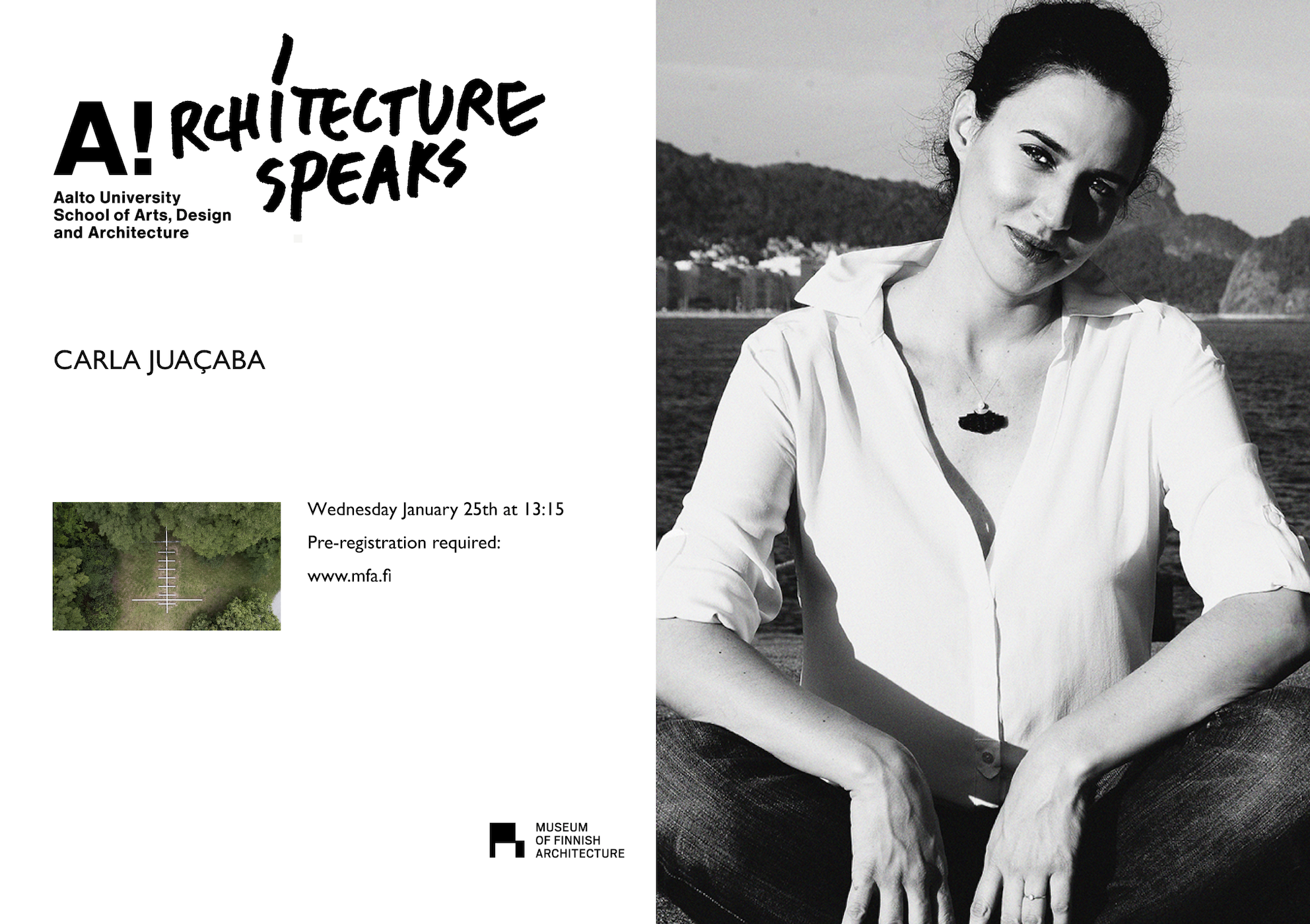 Online Lecture
Wednesday 25 January 2023
1.15–2.30 pm (UTC+2)  
Zoom Webinar (pre-registration required, link below)
The international lecture series on contemporary architecture continues online! Six professional in the field of architecture from various backgrounds are invited to share their thoughts and ideas on current trends in architecture.
"For this season of guest lectures, I have chosen creators whose thinking and works evoke feelings of pleasure, passion and a hope for the future." – Jenni Reuter, curator of Architecture Speaks!
Carla Juaçaba
"In her work, Carla Juaçaba shifts effortlessly between the worlds of architecture, art and academia."
– Jenni Reuter, curator of Architecture Speaks!
Since 2000, Carla Juaçaba has developed her independent practice of architecture and research-based in Rio de Janeiro. Her office is currently engaged in both cultural programs and private projects. After graduating she worked on the Atelier House, Rio Bonito House, Varanda House, Santa Teresa House, and a couple of exhibition designs. She is now living in London, teaching at Mendrisio Accademia in Switzerland, and is currently a Ph.D. student at ETSAM-UPM-Madrid. For more information: https://www.carlajuacaba.com.br
Architecture Speaks!
Architecture Speaks! Is a lecture series curated by Associate Professor Jenni Reuter and organized by Aalto University Department of Architecture and the Museum of Finnish Architecture.
Pre-Registration
The online lecture will be held on Zoom Webinar platform. Please pre-register from this link no later on Tuesday 24 January 2023: https://q.surveypal.com/Registration-Architecture-Speaks-Carla-Juacaba
Link and instructions for participation are sent in a separate email after the registration has closed.
Accessibility
The online lecture is free of charge and organized in English. Live captioning is provided. Interpretation or translations are not provided. There will be no recorded version of the lecture available afterwards. Technical instructions are on display at the beginning of the lecture.
For more information
Jemina Lindholm
Manager of Learning and Public Programmes
Museum of Finnish Architecture
jemina.lindholm@mfa.fi
+3584577310476