Online Zoom Lecture / Architecture Speaks: Rick Joy
Paikka: Muualla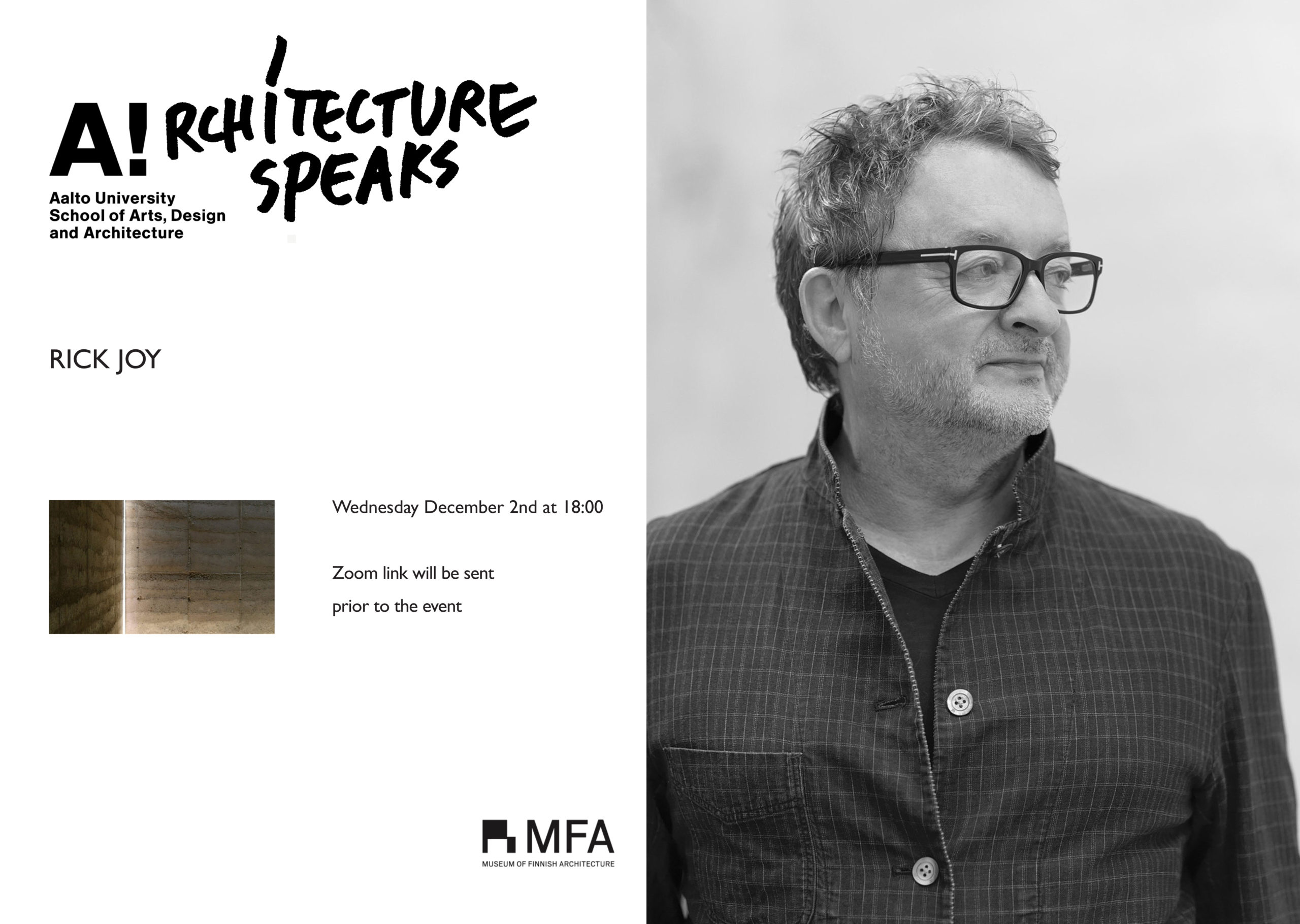 Rick Joy | Studio Rick Joy | Arizona, USA
Wednesday  2nd of December 2020 6.00 PM–8.00 PM  (UTC+2)

The international lecture series on contemporary architecture continues online. Six architects from various backgrounds are invited to share their thoughts and ideas on current trends in architecture.
Rick Joy is the founder of Studio Rick Joy, an award-winning architecture, interiors, and planning firm based in Tucson, Arizona. Originally from Maine, Rick studied music and was a classical percussionist and rock/blues drummer until the age of 28 when he moved to Tucson to study Architecture at the University of Arizona. Upon graduation in 1990, Rick began a 3-year appointment as part of the design team for the 280,000sf Phoenix Central Library with William Bruder Architects in Phoenix.
His first major solo project, the Catalina House, was designed shortly after he graduated, and in 1993 Studio Rick Joy (SRJ) was established with Rick as founding/managing principal. Rick is also the co-founder/owner of CLL Concept Lighting Lab with his wife Claudia Kappl Joy. CLL provides full-service Lighting Design for all SRJ projects in addition to outside firms.
Rick periodically serves as visiting professor at Harvard University's Graduate School of Design, Rice University, M.I.T. and the University of Arizona, and for years hasled the Immersion Vermont Masterclass, an annual week-long program for mid-career architects that he founded. Rick has lectured internationally and is considered an important contributor to the ongoing global discourse on conceptual and sustainable architecture.
His work expresses innovation and exactitude in modernism and reflects a unique sense of place.
Most significantly, Rick received the 2002 American Academy of Arts and Letters Award in Architecture and in 2004 won the prestigious National Design Award from the Smithsonian Institute/Cooper-Hewitt Museum (White House Ceremony). In 2015 Rick was vested into the American Institute of Architects' College of Fellows and the Royal Institute of British Architects' RIBA International College of Fellows. In winter of 2019 he was inducted into the Design Hall of Fame. Professional affiliations include The College of Fellows of The American Institute of Architects, The American Academy of Arts and Letters, Tucson MOCA Advisory Board Member.
"Rick Joy's architecture shows the most beautiful aspects of rammed earth construction. Although the climate in his home region of Arizona, USA, is very different from that in Finland, his work can inspire us to a new sensitivity also in regard to other building materials", says Jenni Reuter, curator of the lecture series

https://studiorickjoy.com
Architecture Speaks
This international lecture series is curated by Professor Jenni Reuter and organised jointly by Aalto University Department of Architecture and the Museum of Finnish Architecture. The new season of lectures examines the relationship between the interior and exterior in architecture as well as hapticity and time in the built environment. Six architects from various backgrounds have been invited to share their thoughts and ideas on current trends in architecture.
Participation doesn't require registration
The lecture is free of charge for everyone. Participation doesn't require registration. Join us in Zoom: https://aalto.zoom.us/j/66818379975
For more information, please contact:
Jemina Lindholm
Programme Manager, Museum of Finnish Architecture
+358 45 7731 0476
jemina.lindholm@mfa.fi